Two fairly big announcements in the world of ebooks today: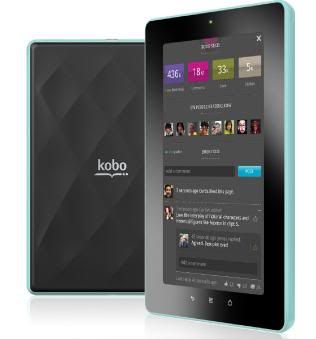 1) Kobo announced a colour eReader/tablet, Kobo Vox. (I'm calling it an eReader/Tablet because Kobo seems to be focusing on the reading aspects, but it does support Android apps. I'll wait for the reviews to see if which camp the device falls into best.) I admit this announcement surprised me since Kobo managed to keep this under wraps, other than a small mention of a Kobo tablet rumor I remember reading on Dear Author a while ago that I forgot about until today's reveal. Price is $199 and it ships October 28 — next Friday, before the Kindle Fire.
And speaking of Dear Author and the Kindle Fire, Jane at DA already has a comparison of the specs of the Vox, Fire, and Nook Color (which it seems has come down in price, at least for a refurb). Read it here.
2) The other news, Penguin (or more specifically, the Berkley/NAL imprints) is starting a digital-first imprint, InterMix. They're launching in January 2012, but the first releases are all reissues of previously published books by Nora Roberts and the Signet Regency line. Read the official press release here.